Did you know that you can take a 10 day trip to Hawaii for just $22.40? Read here to learn the exact steps to take. Brad, a travel expert, is going to show you how to travel for cheap. Enjoy!
By now you've probably heard how people are using credit card rewards points to travel the globe for nearly free, and, in fact, Michelle previously posted about her love for travel rewards and how she saved over $2,500 in one year with her rewards credit cards.
Related articles:
But if you're naturally skeptical like me, you're wondering if it is as easy as it sounds and if you can really do it. I want to show you today how you can make this happen, and I'll walk through how it is possible even on a dream trip to Hawaii.
First, here are some of the best rewards credit cards based on the kind of offer or reward you're interested in:
And next, a little bit about me, and what it takes to succeed:
I'm Brad Barrett, a Certified Public Accountant, husband and father to two young daughters; 3 years ago I started RichmondSavers.com as a personal finance blog, but the site soon pivoted to helping people get started with travel rewards after my story about how we took our family to Disney World for nearly free with rewards points got some significant press.
I realized there was a true need for an introduction to travel rewards in a systematic and straightforward way, so I teamed up with my friend Alexi Zemsky to offer a free 15-day email course called Travel Miles 101. It resonates with people that we're two professionals (CPA and MD), with young families who have made this strategy work in our own lives, and our community has grown significantly to over 6,000 members with a thriving and supportive private Facebook group.
So, I went from being a CPA to teaching people all over the country how to best earn and utilize their credit card rewards points for nearly free travel!
My wife and I have earned nearly 2,000,000 miles and points that we value at nearly $40,000, and we've taken trips to Bermuda, NYC, Boston, Disney World and we have trips planned to visit family in San Francisco and Santiago, Chile.
This truly has transformed our lives.
Note: These cards are all great and I recommend using them all as part of your daily spend routine – these cards are worth keeping for the long term.
Related: How Michelle Made Over $300,000 Blogging in One Year

What is this all about?
I define this as this: Opening new and highly specific credit cards to earn large signup bonuses (often in the range of 50,000 miles/points) that when stacked together can earn you nearly free travel around the world.
Let's look at an example of a signup bonus: The Chase Sapphire Preferred Card is my #1 recommended credit card and as of publication of this article it offers a 50,000 Chase Ultimate Rewards (UR) point bonus when you spend $4,000 in the first 3 months after account approval. The $95 annual fee is waived the first year as well.
Chase also offers a 5,000 point bonus if you add an authorized user who makes one purchase in those first three months.
So let's break this down: You're using this credit card for $4,000 of your normal spending for 3 months and paying it off on time and in full every single month. Once you've reached this $4,000 cumulative figure you earn 50,000 bonus points plus at least 4,000 points for your $4,000 of spending plus another 5,000 if you added an authorized user who made a purchase.
That brings you to at least 59,000 Chase UR points. The great thing about these Ultimate Rewards points is that they can transfer to 11 different airline and hotel rewards programs to become those miles! This gives you an incredible amount of flexibility just by having these points.
Let's say you spent a bit more on the card and got up to 60,000 UR points: this would be enough for a round-trip to Europe with a free stopover in a second city on United or 12 free nights in a Category 1 Hyatt hotel.
It would be safe to say if redeemed in this way these points would be worth over $1,200 from one credit card signup. That amounts to a 30% rebate on your $4,000 of spending!
Compare that to your normal 1% – 2% rewards on your existing card and you see how this strategy really is a game-changer.
Who are travel rewards credit cards good for?
Anyone who uses their credit cards responsibly every month needs to strongly think about getting into travel rewards credit cards. If you're a fan of Making Sense of Cents then you are already pretty smart financially and this is the next step towards making your wise habits pay off even more.
That said, it is not for everyone!
To get approved for these premium credit cards you are generally going to need at minimum a 700 credit score (and 750+ is preferred).
If you're just out of college or have a short credit history, I wouldn't suggest getting started with this right now. Grab one card that doesn't have an annual fee and use that as your primary card for a number of years. You'll see your credit score skyrocket and then in a few years you can come back and start earning some rewards points!
You can check out great credit cards for students here.
Travel rewards credit cards do take a small amount of organization, as you have to track what the minimum spending requirement is on your current card and make sure you reach that; you also need to keep track of your credit card and rewards program logins, due dates on your cards, etc. Pretty easy stuff generally, but it is still important.
What does it take to succeed?
The most important trait for long-term success with travel rewards credit cards is flexibility which goes hand-in-hand with the ability to plan in advance. You have to understand that these are frequent flyer miles and there are limitations, so any bit of flexibility you can build into your strategy will help you significantly.
Often, you'll find the airline award seats (where you use your miles) are fully booked on one day, but might be plentiful the next day. So, even this little bit of flexibility will help you significantly as you simply could not use your miles on your intended date, but your flight would be free the very next day.
That sounds like a good deal to me, so that's why I always approach my intended trips with as much flexibility as possible with the types of points I earn, the dates of my trips, airports I'm willing to fly out of, possible destinations, etc.
Common questions about travel rewards credit cards:
Q: Can I actually use my points or am I going to deal with blackout dates all the time?
A: As I mentioned above, the key here is flexibility. If you believe that just because you have a lot of miles and points that you can travel wherever and whenever you want, you'll be disappointed. There are a limited number of award seats and people book them. Simple as that.
However, if you realize that you just need to be a little bit smarter than the next person by planning in advance and being flexible, you'll find that you can see the world for pennies!
And if you don't have a ton of flexibility, there are still ways to save money with easier programs to use like Southwest Airlines, most hotel rewards programs (which have tons of availability), and cards like the Barclaycard Arrival Plus™ World Elite MasterCard® which allow for simple redemptions.
Q: Do the points expire if I don't use them in the next year or when I close my credit card?
A: Points do expire, but there are very simple ways to extend the expiration, so I've never been really concerned with losing any of my points. With a little bit of foresight and organization, you can easily avoid any problems!
Most points are in your airline or hotel rewards account and they each have their own expiration policy, however the vast majority have a policy where the expiration clock is reset anytime there is any account activity whatsoever.
This could mean something as simple as a purchase for even $1 on your airline/hotel rewards card, and of course the best way to get activity is to actually book a flight or a room!
Q: What will this do to my credit score?
A: From my experience and from all the people I've worked with, it will impact your credit score surprisingly little, and may even help!
Important: I do not work for the credit card companies or bureaus, so I can't tell you with certainty what will happen, but I can pass along my own experience:
My score tends to drop a few points when I open a new card, but it always bounces back after a few months; my score started at a 797 when I began this strategy 4+ years ago and last check it was an 814.
Planning a Trip to Hawaii with Rewards Points:
Okay, so let's get to the fun part, earning and booking your trip to Hawaii.
There are dozens of different ways to plan a trip to Hawaii with rewards points, but I wanted to show you the easiest way I could find for two people to take a 10-night trip to Hawaii using only four new credit cards.
Note: Spouses/significant others/traveling companions, etc. can each open every single type of credit card to get the bonus themselves.
While our trip today will take you to Honolulu (Oahu) and the Big Island, if Maui and Kauai were your intended destinations, you could easily do those instead.
The Credit Cards You Need:
Chase Sapphire Preferred Card (one for each of you): Spend $4,000 in the first 3 months to earn a 80,000 Chase Ultimate Rewards bonus. $95 annual fee.
Starwood Preferred Guest® Credit Card from American Express (one for each of you): Bonus at time of publication: Spend $3,000 in the first 3 months to earn a 25,000 Starpoint bonus. $95 annual fee waived the first year.
Total spending: $14,000 for the four minimum spends. While this sounds like a lot, if you put $1,400 on your credit cards each month (which isn't enormous for a family including food, recurring utility bills, etc.) you can reach these bonuses within 10 months.
So let's assume you open these cards sequentially and reach the spending requirements and all bonuses; at the end of about one year you'll have a total of at least:
118,000 Chase UR points
56,000 Starwood Starpoints
Booking Your Award Flights:
I'm going to show you the easy way to find and book your award flights using Chase UR points and then throw in a simple yet effective advanced trick to help save you 20,000 total points!
The major US airlines including American, United and Delta all charge 45,000 miles for one round-trip from the mainland US to Hawaii.
However, it is possible to fly these exact same planes and routes and take advantage of what I call a sweet spot by using a partner airlines miles to book for fewer miles.
The example in our case: Using United miles, it costs 45,000 miles for a round-trip on United airplanes, but it only costs 35,000 Singapore Airlines miles to fly the exact same United planes!
But how the heck do you get Singapore Airlines miles you're probably asking, right?
Chase Ultimate Rewards points transfer to Singapore Airlines (and United coincidentally), so once you've found the award seats it is as simple as going into your Chase account and transferring, in this case, 70,000 points out to your Singapore Airlines account (which you can setup for free).
First, you have to find the award seats on United.com, so we'll head to the United.com homepage and enter the following assuming that our travelers are coming from NYC, want to travel in the fall and have some flexibility:
Click "One-way" as it is easier to search segment-by-segment
Click "My dates are flexible"
Click "Search for award travel"
Click "Nonstop"
Enter your airports and click "Search"
Then we're met with a 2 month calendar that shows their award availability on these direct flights from the NYC area.
We're hoping to see a lot of dates shaded in yellow and green which means it is the ìSaver Award Economy level award seat that would normally cost 45,000 miles round-trip on United (but we know will only cost us 35,000 Singapore Airlines miles):
There are 36 days available over this 2-month period with nonstop availability from NYC to Honolulu; let's say you like October 17th, so you click on that and find this direct flight from Newark to the Honolulu airport:
You'll see that it says "Saver Award" in the Economy column and notes it is 22,500 miles for each one-way ticket. These are the exact seats we need to book the flights using Singapore miles.
After clicking "details," you jot down all the pertinent information like date, time and flight number for when you need to book through Singapore (you'll do the same thing on the return flight from Hawaii to Honolulu).
Armed with all that information I would suggest you consult with this excellent tutorial at the travel blog MileValue that shows you step-by-step how to book these United flights with Singapore miles.
It's as simple as transferring 70,000 Chase UR points to one Singapore Airlines account and then following those steps to book the flights.
Booking Your Hotel Nights:
After booking your award flights, you still have 48,000 Chase UR points and 56,000 Starpoints remaining. Here's how we'll turn that into 10 free hotel nights in Hawaii:
The Hyatt Place Waikiki Beach hotel only costs 12,000 Hyatt points per night, and Chase UR points transfer to become Hyatt points as well, so your 48,000 remaining points will be exactly enough for four free nights!
From the hotel homepage we'll enter our four night stay from October 17th to October 21st here:
Then we click Book Now and if there are award nights it will show up as an option to select them and pay 12,000 points per night. And we're in luck: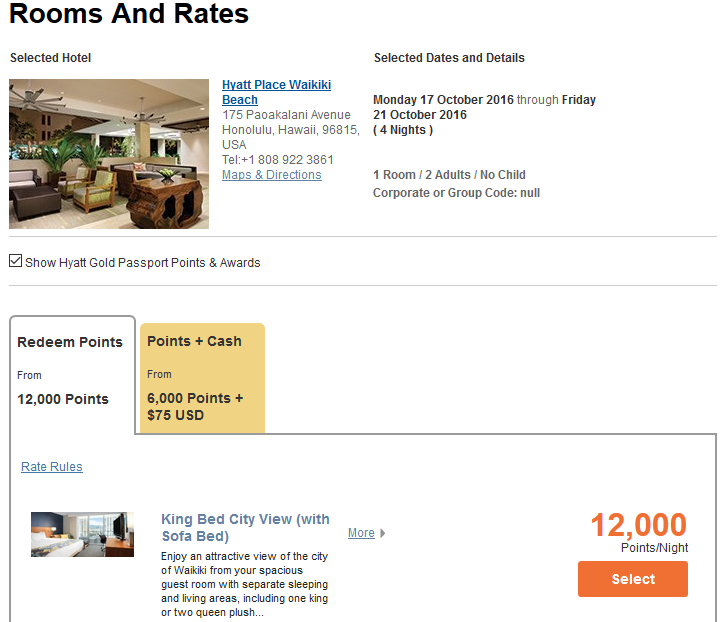 On the 21st you'll fly to the Big Island and stay at the Sheraton Kona Resort & Spa at Keauhou Bay. This hotel is a Category 4 Starwood property, which costs 10,000 points per night.
Starwood has deal where when you use points to book a stay of five or more nights, you get the "5th Night Free," which means you pay zero points for that night. So in this case you can book 6 nights for 50,000 points.
Go to the hotel homepage and enter your travel dates in the search box.
After you click Find Rooms and Rates the room options show up on the next page and we see the following:
You'll notice that it automatically applies the 5th Night Free promotion on this six night stay and says that it costs 8,333 points per night (50,000 total) for your stay.
Final Thoughts:
So, there you have it, a 10-night trip to Hawaii using frequent mile and hotel points! Total out of pocket costs for two round-trip flights and 10 hotel nights should be approximately $22.40 for unavoidable airport taxes and fees on the award tickets. Not bad, right?
When conceiving this trip I decided our travelers were going to take this trip in mid-October 2016 and just a few short minutes later I found award flights and hotel room availability. If I was really planning this trip it could have been booked in a matter of minutes!
I hope you've enjoyed this introduction to travel rewards credit cards and step-by-step example of how easy it can be to really book these dream trips using your rewards points. If you approach this with an open mind, I think you'll be pleasantly surprised at how much fun it can be, in addition to a nice source of intellectual stimulation and, of course, a big money saver!
Check out some top travel rewards cards here.
Do you use credit cards for their rewards points? Why or why not?
If you are new to my blog, I am all about finding ways to make and save more money. Here are some of my favorite sites and products that may help you out: